First steps towards full automation
posted by MrBondt on Monday, January the 11th at 11:12 AM
Yes, we do realise that we haven't published a lot of updates lately. This mainly is due to the fact that we're busy creating some larger parts of our website. Next to the announced user control panel, we're moving large parts of LVP's administration features towards the website. This includes our financials, crew coverage information, and IP Tracking tools, all meant to easen up the job of our administrators.
Considering most of you will never see these components of our website, we figured it would be a nice thing to share some screenshots. The first screenshot shows the relation manager. This allows us to link all your accounts together, making sure that all your statistics are being gathered and can be used in your profile. Mind that IRC linking is still missing on this page, as we haven't finished implementing a proper way to monitor your activity throughout our IRC Channels.
The second screenshot shows an overview of the crew coverage page for Management Members. It's a powerful tool allowing us to decide who should get demoted due to inactivity. The systems allows us to look back to coverage early 2007, see yearly overviews and "zoom in" on specific days and crew members. It also features an automated warning system to tell us which crew members haven't been ingame a lot recently. We'll publish more screenshots of area's like these later on!
As usual, a number of bug fixes have been applied to our website as well. You can use the "enter" key on your keyboard again when searching for a specific player, various typos have been fixed and an Atom feed is now available for those who would like to use it. In the next few days we plan on publishing WhatPulse overview pages for user profiles, giving information about all pulses, averages and progress of a single user in our team.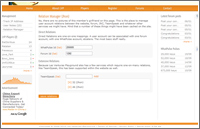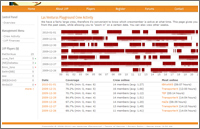 With kind regards,
The LVP Management